Legends of Norrath Preview: Item Card Type
by Paul Dennen, Sr. Game Designer
First up, we have items. Like abilities, items are played onto your avatar and provide support in a variety of ways; they can provide extra defense or attack, or grant miscellaneous non-combat effects to bolster a particular strategy. Unlike most abilities, items are not applied to quests. Thus, items are generally permanent and remain in play until destroyed by a card effect. Items represent all sorts of things: armor, weapons, magical baubles, tomes, you name it. Today, we take a look at a scout item. It's technically armor because it has the armor trait, but it doesn't provide protection for your scout avatar. No, these boots were made for walking, stalking, and generally causing a large pain in your opponent's butt. Take a look: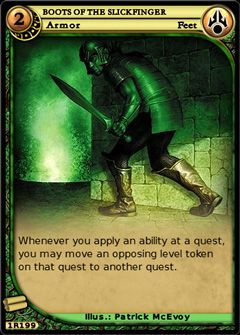 Whenever you apply an ability at a quest, you may move an opposing level token on that quest to another quest.
Take a look at that game text. To players like me who like to play with tricky tactics and strategies as opposed to brute force, that game text is pure gold and I hope you're excited by it.

Just like the other cards, this card has a card type icon in the top left on which is printed the card's cost. The archetype icon in the top right is, in this case, a scout icon. Underneath the name we have a trait: armor, which as we've said before carries no intrinsic value but it is something that other cards can refer to. On that same line, on the right side, is something new. "Feet" is a term that we call a restriction. EQ and EQII players are quite familiar with item slots, and this is basically the same concept: you can only have one item in play for each restriction.

You are allowed to upgrade your items for a particular restriction, however. For example, if you draw Boots of the Slickfinger early in the game but later in the game you draw Journeyman's Boots, another item with the Feet restriction, you are allowed to play the Journeyman's Boots. When you do so, two things happen:
Your old item is destroyed (sent to your discard pile from play).
You draw a card. This bonus card draw is a counterbalance to the fact that you had to lose your old card to play the new card.
These rules mean you can stock multiple copies of your favorite item without feeling that you are going to be stuck with useless extra copies in your hand.

And that's really the only new mechanic related to items.
Pages in category "Item (Card Type)"
The following 72 pages are in this category, out of 72 total.
A

B

C

D

E

F

F cont.

G

H

I

J

K

L

M

N

R

R cont.

S

T

V

W