Destory the Rift

The Drunder Rift has been opened, and Anival the Blade stands in your way. Rescue Firiona Vie and defeat Anival.

Basic Information

Opponent

Anival the Blade (1A0)
Trait: Ogre
Faction: Shadow

---

Attack: 4
Defense: 3
Dmg Bonus: +2
Health: 13

---

Game Text: At the beginning of each combat involving this avatar, choose an opposing combatant, Deal 1 damage to that combatant and heal 1 damage on this avatar.

---

Lore Text: Anival's mighty blade was forged in the volcanic heart of Drunder Fortress and anointed in sacrificial blood by Rallos Zek himself.

---

Illustrator: Derek Herring

Reward Card
Lore
Game Start Lore
The once-proud halls of Diren Hold have been ravaged by its new inhabitants. Ancient tapestries lie in tatters, and heirloom weapons are shattered and broken. The foul stench of brimstone overwhelms your senses as you rush down the stone corridors.
A curious rushing noise, coupled with a rhythmic hum, leads you to a huge chamber in the main keep. Dominating the room is a rift that swirls with dark energies, the source of these arcane noises. Through this mystical doorway you see another dark citadel -- Drunder, Fortress of Zek.
In front of the portal you see a dark figure with his back to you, standing before a marble altar engraved with the radiant symbol of Rallos Zek. Firiona Vie lies chained to the top; her blood stains its black surface. You are relieved to see that she still breathes.
Slowly, the powerful figure turns to face you, a massive Ogre wearing mighty layers of arms and armor. He laughs mirthlessly as he throws the dagger aside; it clatters on the hard stone floor.
'You have failed, puny mortals. You are too late. The Blood of the Pure is spilt, and the portal is opened. Some of our minions have already reached Norrath.' His yellowed teeth form a cruel grin. 'Chaos has triumphed. Soon we shall overrun your world.'
Lucan whispers an aside to you. 'Anival the Blade is his name, and he is a fearsome ally of Rallos Zek himself. I will attack the rift while you rescue the High Elf.'
'Your princess still lives,' Anival mocks. He draws a huge katana from a scabbard on his back. Taking it in both hands, he waves it back and forth. 'Try to rescue her or watch me slay her. Make your choice.'
You begin with Lucan and Firiona in play. Firiona is chained to the Marble Altar and if she dies, you lose the scenario. (You also lose if you discard Firiona Vie from your hand.) Defeat Anival the Blade to destroy the Drunder Rift and save Firiona Vie.
Drunder Rift Win Lore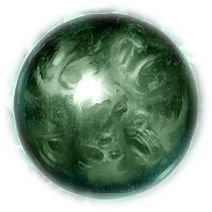 With rage in his eye, Lucan slashes the portal rim where its power is most focused, his mind obsessed with hatred for this arcane device. The portal flickers with each blow, and the view into Drunder blurs and flashes. With a final strike, the mad vistas of the Plane of Tactics disappear for good, and all that can be seen through the portal is the cold stone of Diren Hold and thin wisps of magical energies that quickly dissipate, leaving only a faint smell of brimstone.

'The portal is closed, Ogre!' Lucan cries, lifting his sword. 'You can no longer call for reinforcements! Your invasion is thwarted, and soon I will stand on your corpse with your head in my hand!'

'Foolish mortal,' Anival sneers. 'Though you've closed the rift, some of our minions have already escaped your blade and will soon roam freely across Norrath. Your efforts are the mere buzzing of flies. If you are so brave, then come forward and face my steel!'

You've destroyed the portal! Now Anival's resources are severely limited. Press on the attack and finish him off!
Marble Altar Win Lore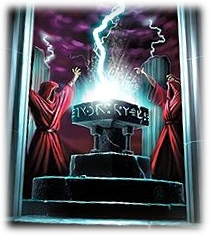 With a final blow, you break the chains that bind Firiona to the blood-stained altar of Zek. You raise Firiona's limp body and her eyes flutter open.

'We've got you,' you tell her. 'You're safe.'

'And not a moment too soon, it appears.' Firiona smiles weakly and struggles to sit up.

'So, you've managed to save the High Elf!' The cruel voice of Anival cuts through the room. 'No matter. I can easily finish the job.' His laugh echoes in the cold, stony chamber.

Firiona motions for you to hand her staff to her. Though weak, she draws on her inner strength and raises herself, head held high. Her staff glows with magical powers.

'Ready yourself, Oathbound. You will now see the true power of Justice and the might of the goddess Tunare! This battle is just beginning!'

You've rescued Firiona! She will now ready during your ready phase.
Game Win Lore
With the defeat of Anival the Blade, Firiona is rescued and restored to full health. As you tend to your wounds after the mighty struggle, Lucan stares at the ruins of the portal, deep in thought.
'If the Chaos Lords could open one portal,' he mutters. 'Then who is to say they will not try again? Those who passed through will surely make another attempt.'
'The Chosen of Tunare is always ready to combat the forces of Chaos, Overlord,' scoffs the High Elf. 'I must return to Qeynos to confer with my magical experts.'
'I am sure that city is impoverished by your absence,' says Lucan, with an insincere flourish. 'Return to your Qeynos and I shall go back to my Freeport. We will see what can be done.'
Firiona puts her hand on your shoulder. 'Oathbound, you have shown yourself time and time again to be a powerful ally in this struggle against the forces of Chaos. The Seventh Hammer has chosen well.' Your heart swells with pride at her comments.
From behind her, Lucan speaks. 'Indeed, I thought this Oathbound to be overmatched more than once, but here we are, all of us able to fight another day.' A grim smile is the only acknowledgment you receive from the Overlord.
'Who is the one behind all of this?' you ask of your companions. 'We have many clues and few answers. There is much work yet to be done. I will see that Uxmar gets my full report to the Tribunal right away.'
You have defeated Anival the Blade!
Game Loss Lore
Firiona's dying scream cuts through the hall of the chamber. You rush to catch her falling body. She looks up at you feebly.
'Oathbound. Thank you for coming for me...though your efforts have been in vain. I grieve for all of Norrath more than for this failing spark. Though you and Lucan cannot possibly defeat him alone, see to it the fiend Anival must struggle dearly for every second you delay this invasion. Norrath will thank you for every breath you grant them.'
Anival grins hideously. 'Such pitiful hope. You think to spit into the eye of Chaos, to throw insult into the maw of death. Your worthless struggle will be nothing more than a blade of grass before the scythe, your blood only more drops of oil for this machine of War. Foolish mortals! Behold this doom before you and despair!'
You try to stand firm with Lucan, but all you can think of is the stern disappointed visage of The Seventh Hammer as he frowns upon your failure. You bow your head and wait for oblivion, knowing that it will come to you before you can see the fall of your world, and perhaps even of Order itself.
You have failed to protect Firiona Vie, and you have been defeated by Anival the Blade.